Fire Ant Ranch
Since 1992 and going strong!
An "Indie" Dyer way before it was cool!
170 Young Ranch Rd., Georgetown TX 78633

Looking for MORE of the Fiber-y Stuff? Please see the new Fiber Arts Republic website. I've moved a lot of the fiber goodies over there. This separation will better reflect what Fire Ant Ranch and FIBER ARTS REPUBLIC (by Fire Ant Ranch) have become.
I'll put a link to my SCHEDULE up both places in case you're trying to find me. Fiber and Cat shows together!
That will leave more room here to talk about the horses and the cats and the personal fiber projects!
Our favorite sausage is still from the one and only Louis Mueller Barbecue place in Taylor, Texas! It will remain our favorite as I seriously doubt there's a BBQ place in Georgetown to rival that chipotle sausage! I WILL say that we DO enjoy Duke's BBQ right here in Georgetown.
We're down to 8 cats, having lost Spot just last year. San Gabriel Simone (grand name for small cat), the blue lynx point is now a year old and in the the teenage "don't wanna" stage, but she is still going to shows. Simone's brother, Lone Star Billy Bob, is burning up the CFA Midwest Region show circuit in HHP.
Gumdrop, our HHP Champion from last season WAS semi-retired, but she missed it. So I took her to a TICA show in Oklahoma City where she picked up a couple of her TICA titles and is well on her way to the ultimate goal, Supreme - which she should pick up in April. But we have time and will not be pushing it. Gumdrop and Simone are still the best of friends, with Gumdrop still trying to "be a mother" - when Simone will put up with it!.
Kaylee, the Shire-cross draft mare IS a true partner, although she's basically had the summer off because of our blasted (and blast furnace) HOT summer! She is very much like my new background picture. We have reconnected with Wolfgang May, so we'll be getting regular dressage lessons again. Sierra, the Mustang mare, is still Boss Mare.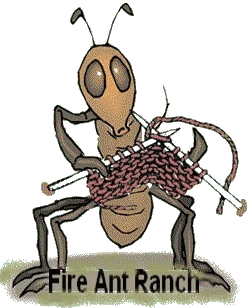 NEWS FLASH: Fiber Arts Republic has had press in the regional

Georgetown View

Magazine in the JANUARY ISSUE, and

GUMDROP

has had press in the same regional magazine in the MARCH issue.
OR if you want lots more Fiber-y Stuff:
The Studio "Shop" is Open ONLY by Appointment on a limited basis – fiber shows, chores and equine activities notwithstanding!

Currently I am hard at work on The Gumdrop Chronicles – an eBook about a year in the life of a show kitty (household pet division) and her knitting mommy/servant: will include 12 knitting patterns that can be worked on ANYWHERE! Several of the patterns are in test knitting mode right now.
PLEASE FEEL FREE to shop via the NEW FIBER ARTS REPUBLIC website and email at any time! The fibers and yarns ARE NOW LISTED THERE, with more coming every day and the Direct Shopping Cart is working beautifully. It is also
featured on the Facebook Fan Page - so you can shop directly from FB. If you haven't fanned my FB page yet, I'd appreciate it!
Did I mention we're doing Bombyx Silk Roving now too? :). Yup! More colors going up every day!
I'll still be travelling to various Fiber and Arts Festivals during the year to market my fiber art. These festivals include the Estes Park Wool Market in Colorado, Destin Spin In Retreat in Florida, SRS Retreat in New Mexico, and others. I am experimenting with other venues as well - like cat shows! This will be most likely when the Gumdrop Chronicles comes out of course.